Welcome to the Foyers category for the Sir Grout of the Lowcountry Blog. Here you'll find blog posts related to stone and tile Foyers that we've restored. See the amazing transformations with the included before and after pictures. Feel free to share and leave your comments.
Published May 18, 2020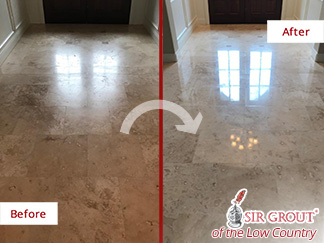 Our Stone Honing Experts in Bluffton, SC Successfully Revamped This Travertine Floor with a Wonderful New Shine
Many homeowners choose travertine because it is sturdy and can withstand wear and tear. However, as strong as this stone is, it requires proper maintenance to keep deterioration at bay. Spills of acidic or colorful substances can cause etching and produce dull spots.
READ MORE