Welcome to the Kitchen category for the Sir Grout of the Lowcountry Blog. Here you'll find blog posts related to stone and tile surfaces that we've restored on kitchens. See the amazing transformations with the included before and after pictures. Feel free to share and leave your comments.
Published January 02, 2022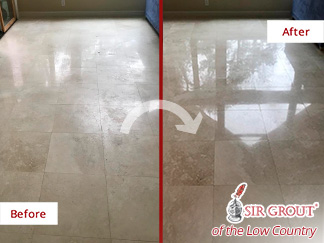 Natural Stone Floor is Revived by Beaufort Stone Polishing Masters
A homeowner in Beaufort, SC, chose marble for her kitchen floor. The surfaces were very glossy when they were first erected, but she noticed that the natural stone progressively lost its brilliance over time.
READ MORE
Published November 25, 2021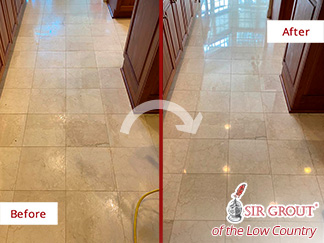 Kitchen Marble Floor Looks Like a Mirror Thanks to Hilton Head Island Stone Honing Specialists
A couple from Hilton Head Island, SC, had a lovely kitchen marble floor, but it looked dingy and worn with time. Nothing they attempted to clean it seemed to work.
READ MORE